Eire Born Irish Dance Company is a professional performing arts group based in Vancouver, BC. They perform regularly at community events, concerts, weddings, as well as at private and corporate events. Past performance highlights for EBID CO. include performing at the Irish Pavilion during the 2010 Olympics in Vancouver, dancing in a Campbell's Soup Commercial, giving performances abroad in New York and Switzerland, and dancing for the Queen in 2002.
The goal of this project is to establish EBID Co. as the premiere professional Irish Dance Company on the West Coast, with the intent of increasing brand recognition and performance opportunities among corporate and other high-profile clients. I created a style guide for the brand, and applied it to print and digital promotional pieces.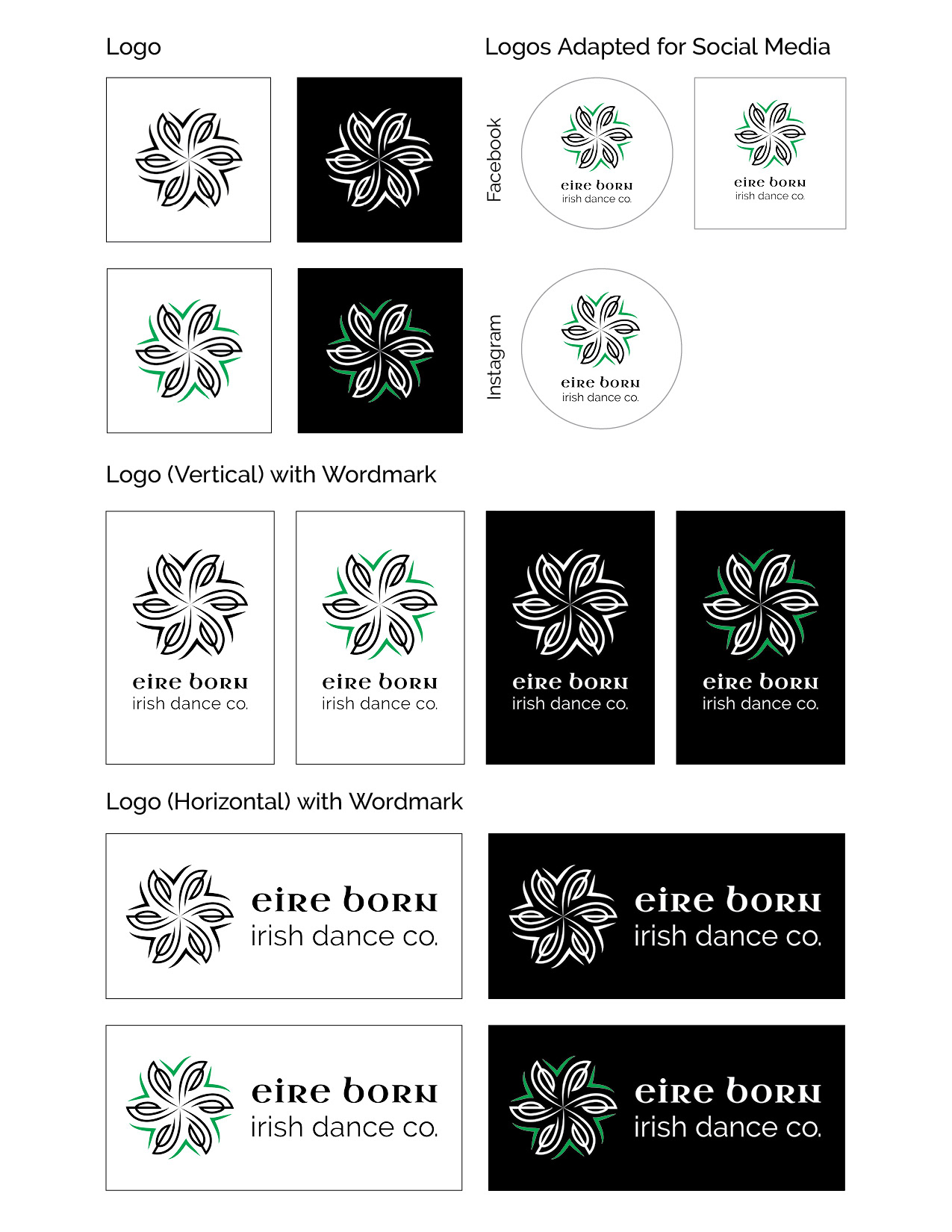 The final logo design is inspired by traditional Irish knotwork. A stylized 'e' is rotated about a centre point, mimicking the movements of a dance performed by a group of dancers. The logo is shown in colour, black and white, and negative, and has been adapted for use on digital platforms.
Uncial Antiqua and Raleway were chosen to give the brand a traditional Irish feel with a modern flair. Uncial Antiqua retains characteristics of traditional Irish hand lettering. Raleway is a geometric sans serif chosen for its rounded letter forms which mimic those found in Uncial Anqitua. By reserving Uncial Antiqua for headings and using Raleway for all other copy, the brand's typography is evocative of Irish culture, but still very legible.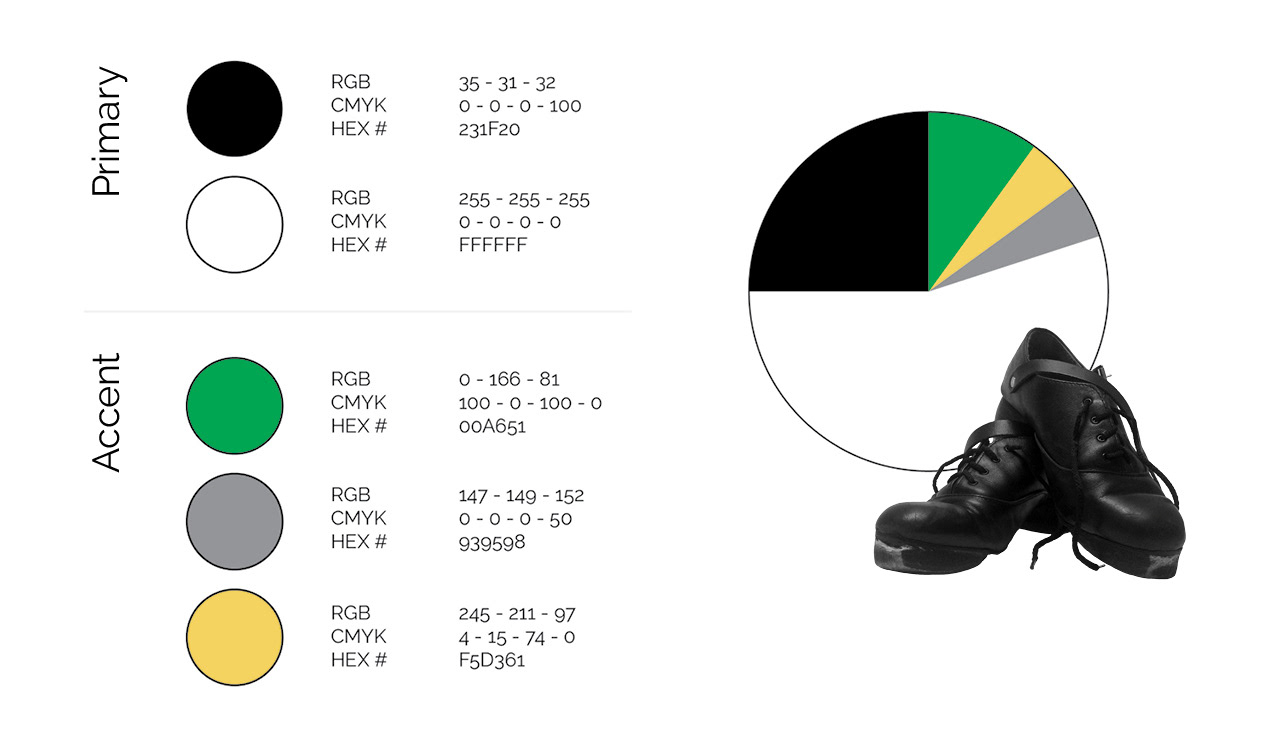 The colour palette is inspired by the dancers' traditional footwear — black shoes usually paired with white socks. These primary colours are clean, modern and are used to elevate the brand. Green was added as an accent because of its association with Irish culture. Grey and yellow were also included as accent colours, to help create hierarchy in the designs and to tie in with the dancers existing costumes (not shown here).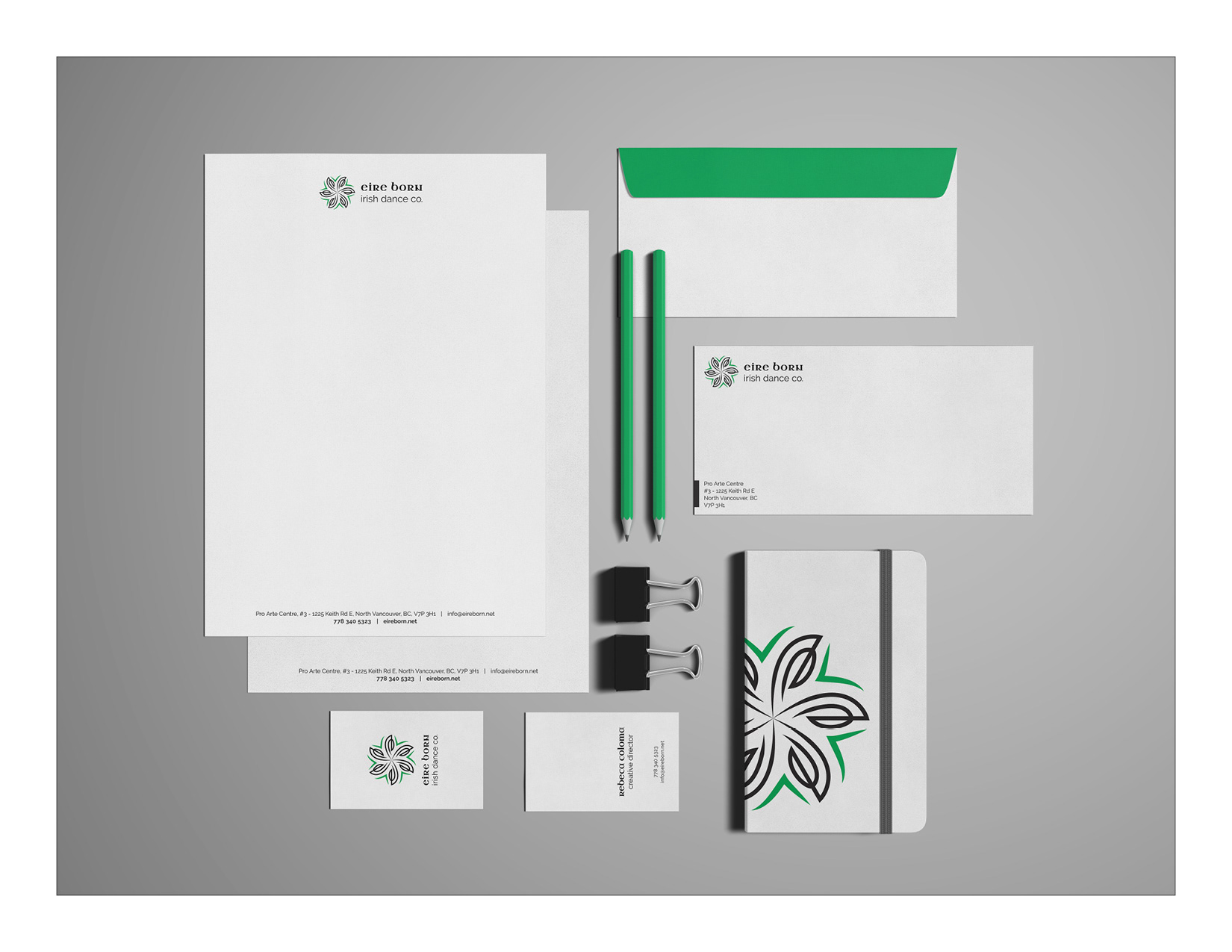 A4 letterhead with corresponding DL envelope, business card, and accessories.
EBID Co. is in need of a professional photo shoot to capture its own dancers in action, ideally in a well-lit environment with a solid coloured or neutral background. The images shown represent the types of imagery recommended for a future shoot. Images should emphasize sharp, clean lines in the dancer's feet and movements, should show traditional elements - costume, form, colours, choreography, etc., and should be nearly monochromatic (black and white is acceptable). The dancers should always be associated with strong lines and shown surrounded by lots of white space.
Until such imagery is available, images of shoes and other costume accessories will be used to represent the dancers. The items portrayed must be easily identifiable as referencing traditional Irish culture and dance.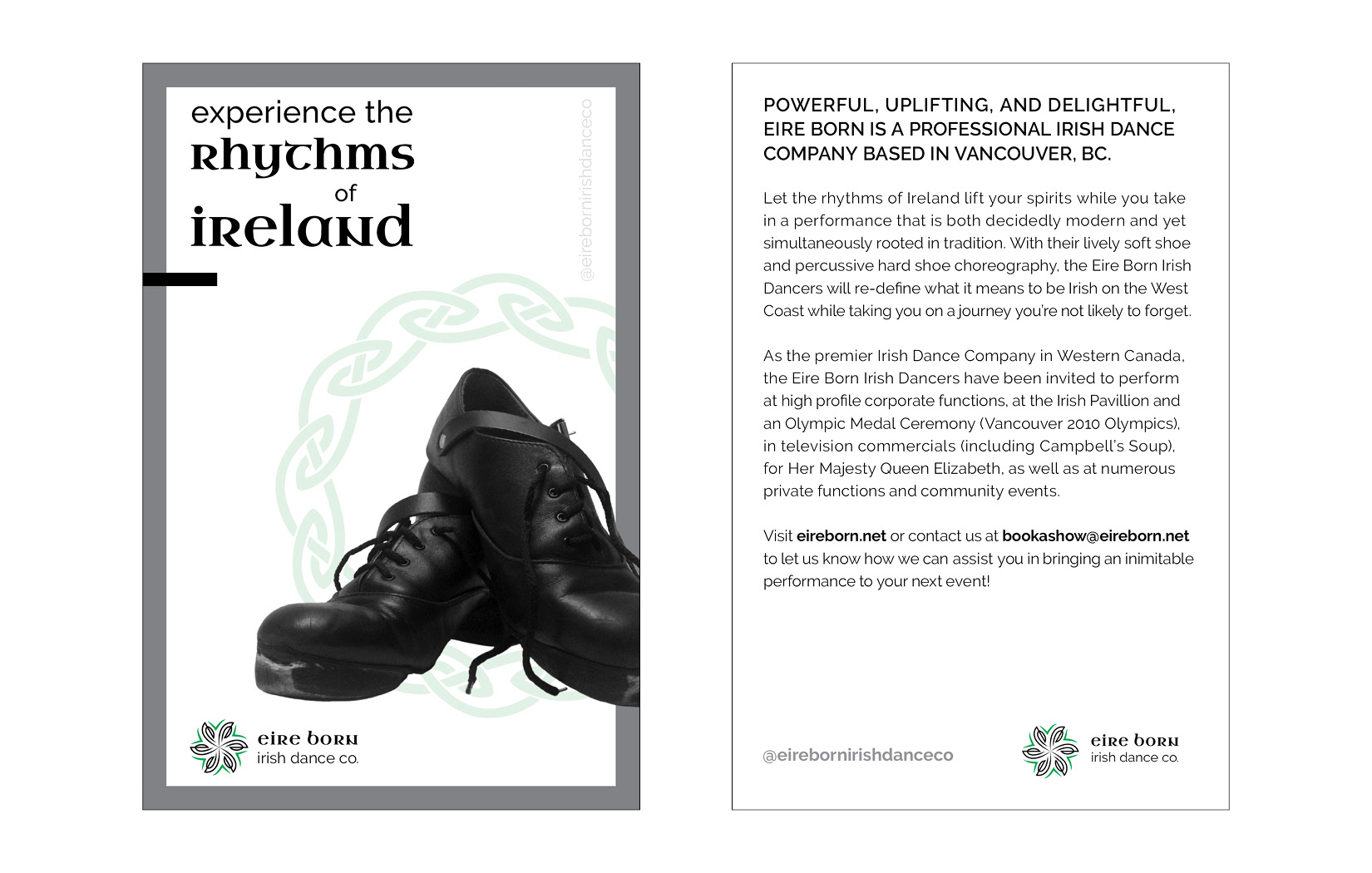 The copy on the back of the 4" by 6" handout was written to reflect high energy of the performance, communicate through a traditional Irish voice and convey the powerful storytelling that audiences will be able to take in at a performance. The copy is intended for a corporate audience.
A tag line, "Experience the Rhythms of Ireland," is used consistently in promotional materials.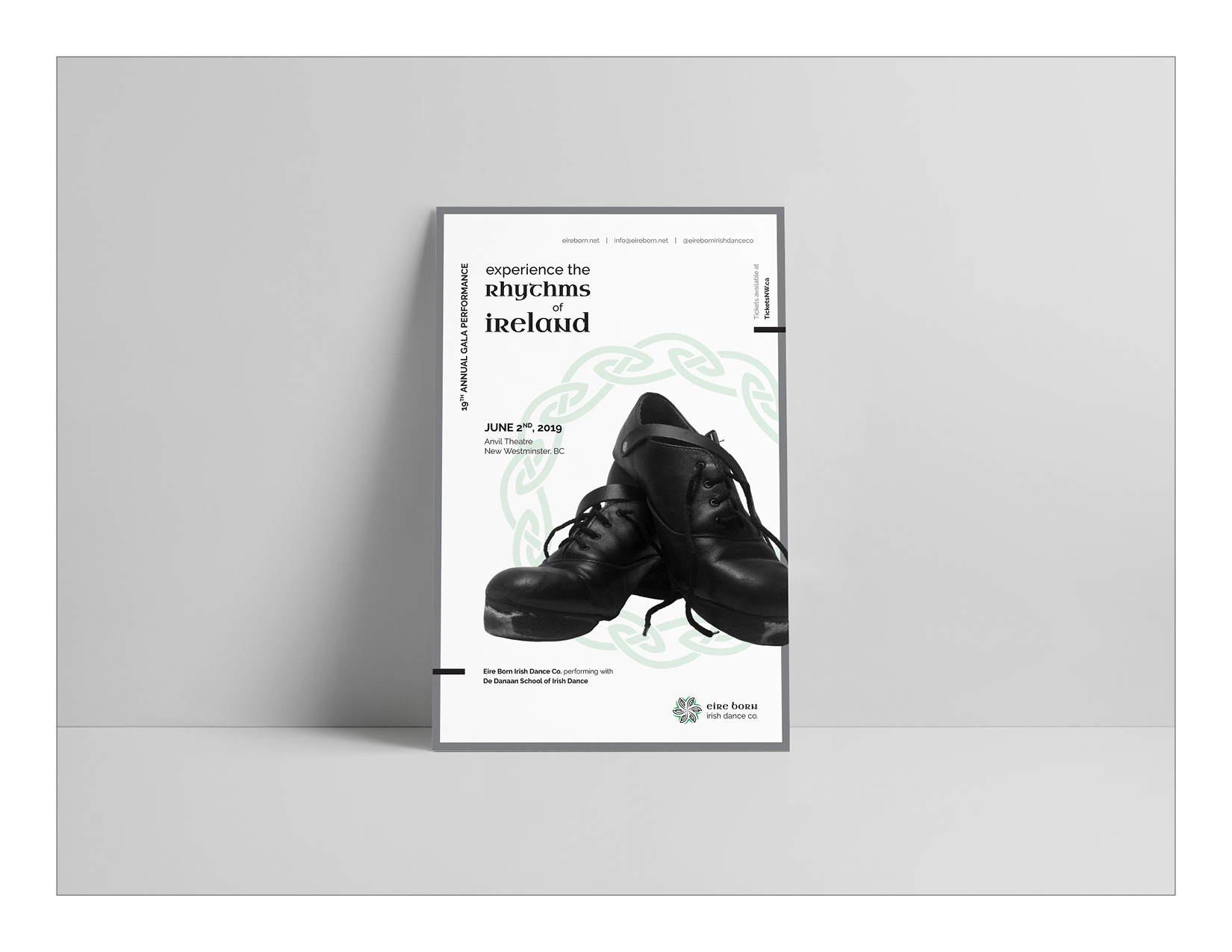 EBID Co. event poster, Tabloid size.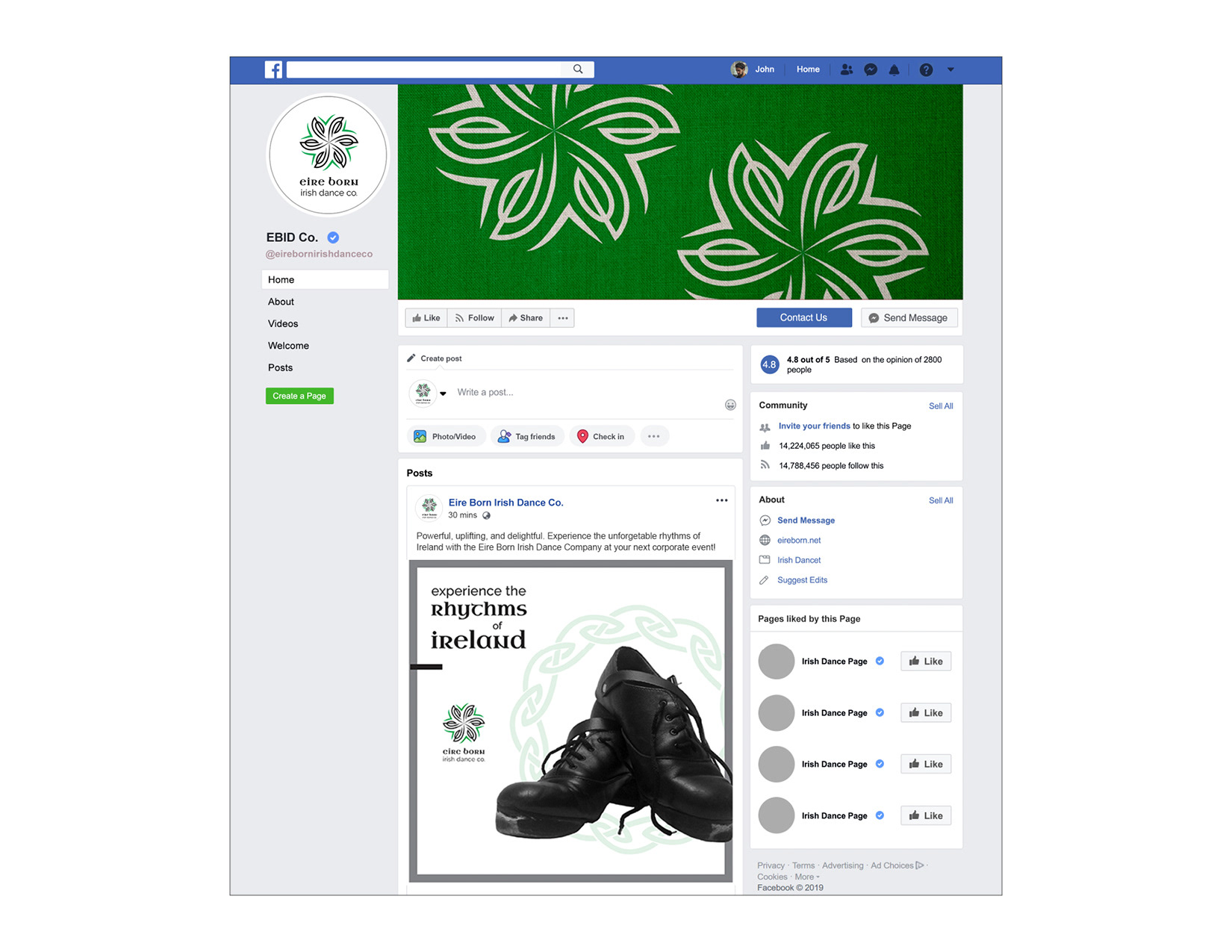 EBID Co. Facebook page, including display photo, banner, and advertisement.
EBID Co. advertisement, adapted for Instagram.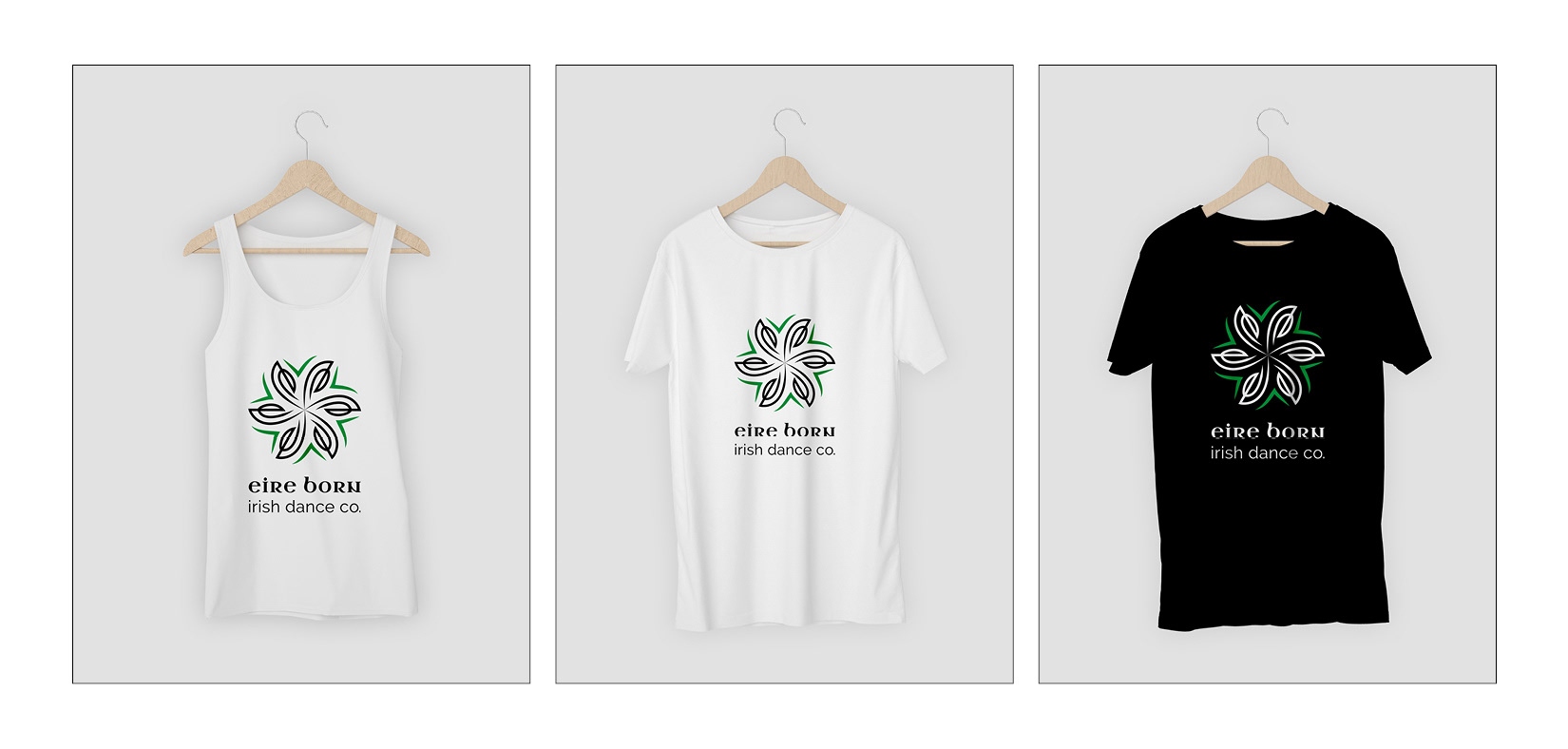 Dancer practice apparel (white T-shirt and tank top), and black T-shirt for sound and stage crew.
Illustrator, InDesign, Photoshop
Constraints & Challenges: 
3 week timeline, time management, client budget, limited availability of high quality images of dancers, appropriate communication for a corporate audience, adapting advertisements for multiple digital platforms & print